Bridging the Gap Between Science and Patients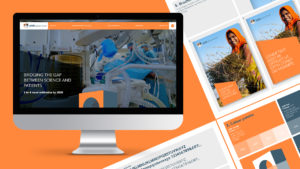 The AMR Action Fund is a ground-breaking new initiative – developed in collaboration with the WHO, EIB, and the Wellcome Trust – to tackle the growing threat of antibiotic-resistant infections – also called antimicrobial resistance, or AMR.
The fund expects to invest more than US$1 billion in smaller biotech companies with the aim of delivering 2-4 new antibiotics to patients by 2030.
ACW were delighted to win the pitch to design the new brand and have worked alongside global PR agency Edelman, Boston Consulting Group (BCG) as well as key IFPMA personnel and the fund Management Team from Eli Lilley and MSD.
In developing the brand we have helped define the fund name and strapline as well as produce the extensive brand and image guidelines to assist the many third-parties involved in developing a wide range of on- and off-line materials.
We have subsequently designed and built the fund website as well as working closely with the Edelman team to refine the copy style and messaging for the interactive environment.
Other interactive items we have produced include animated logotypes for video and web usage, video treatments for the local teams at the launch events in Washington, Berlin and Tokyo as well as producing six highlight video's of the Berlin and Washington Events.
Get in touch for more details: jan@acw.uk.com