UNHCR
UNHCR had exhausted conventional methods of publicising the plight of refugees; so we proposed the concept of an app that would tell the true-to-life stories of refugees and appeal to a diverse set of audiences in innovative new ways. We were delighted to be awarded the contract and the race was on to design and built an engaging app to coincide with World Refugee Day!
ACW decided to take an innovative approach; to design an App that dealt head-on with the awful situations refugees have to endure.
'MY LIFE AS A REFUGEE' entertains and educates players, compelling them to wrestle with the same perilous dilemmas faced by millions of refugees worldwide. Each story within this FREE app is based on real-life experiences of families torn part by conflict or persecution.
Each of the three narratives within this FREE app is based on real-life experiences of families torn part by conflict or persecution – to face the same life-changing decisions refugees make in a true-to-life quest to try to survive, reach safety, reunite with loved ones and re-start their lives.
Disciplines:
— Content origination
— Copywriting
— Illustrations
— Microsite design & build
— Hosting & support
— App design & build
— PR activities
— Video & animation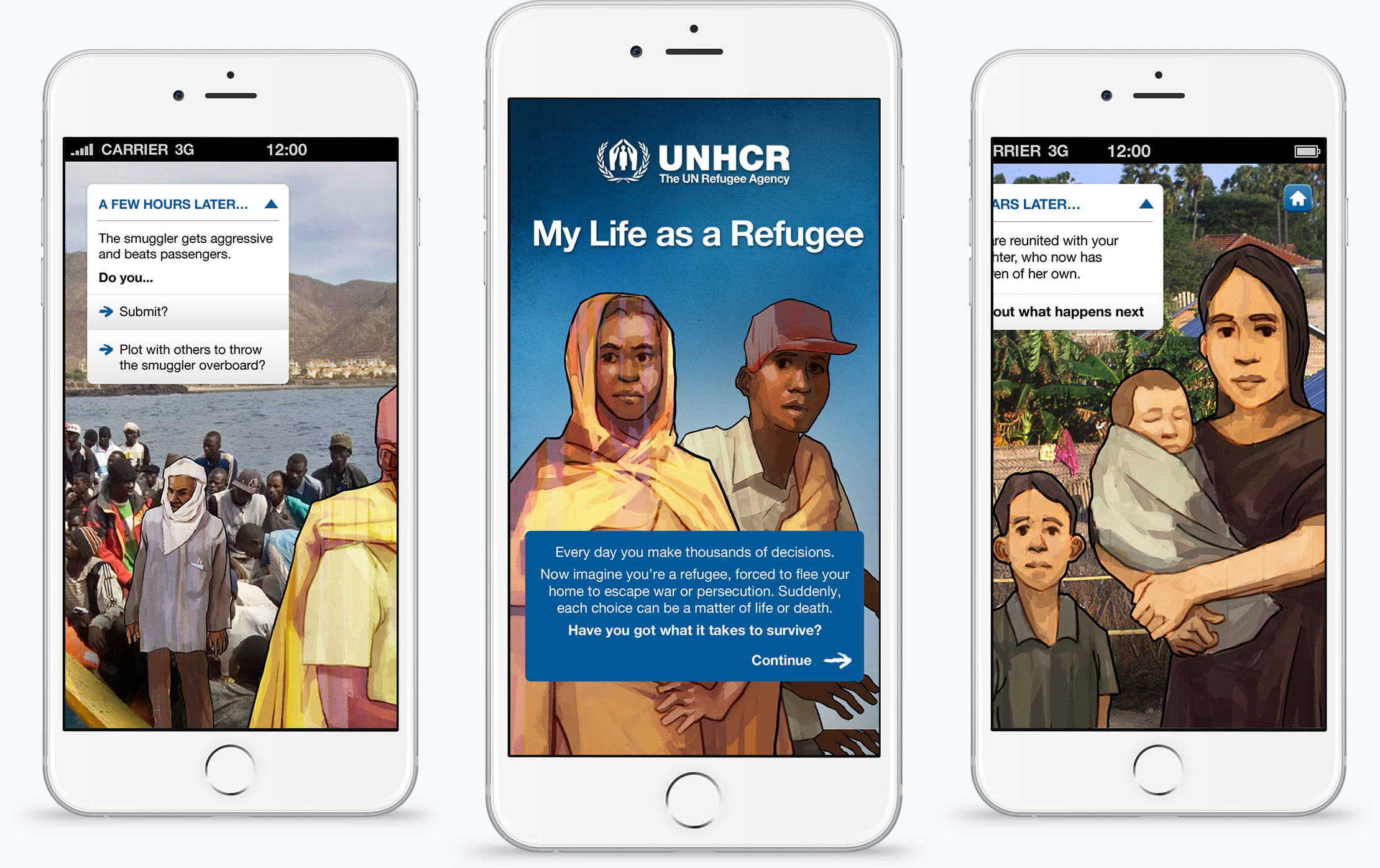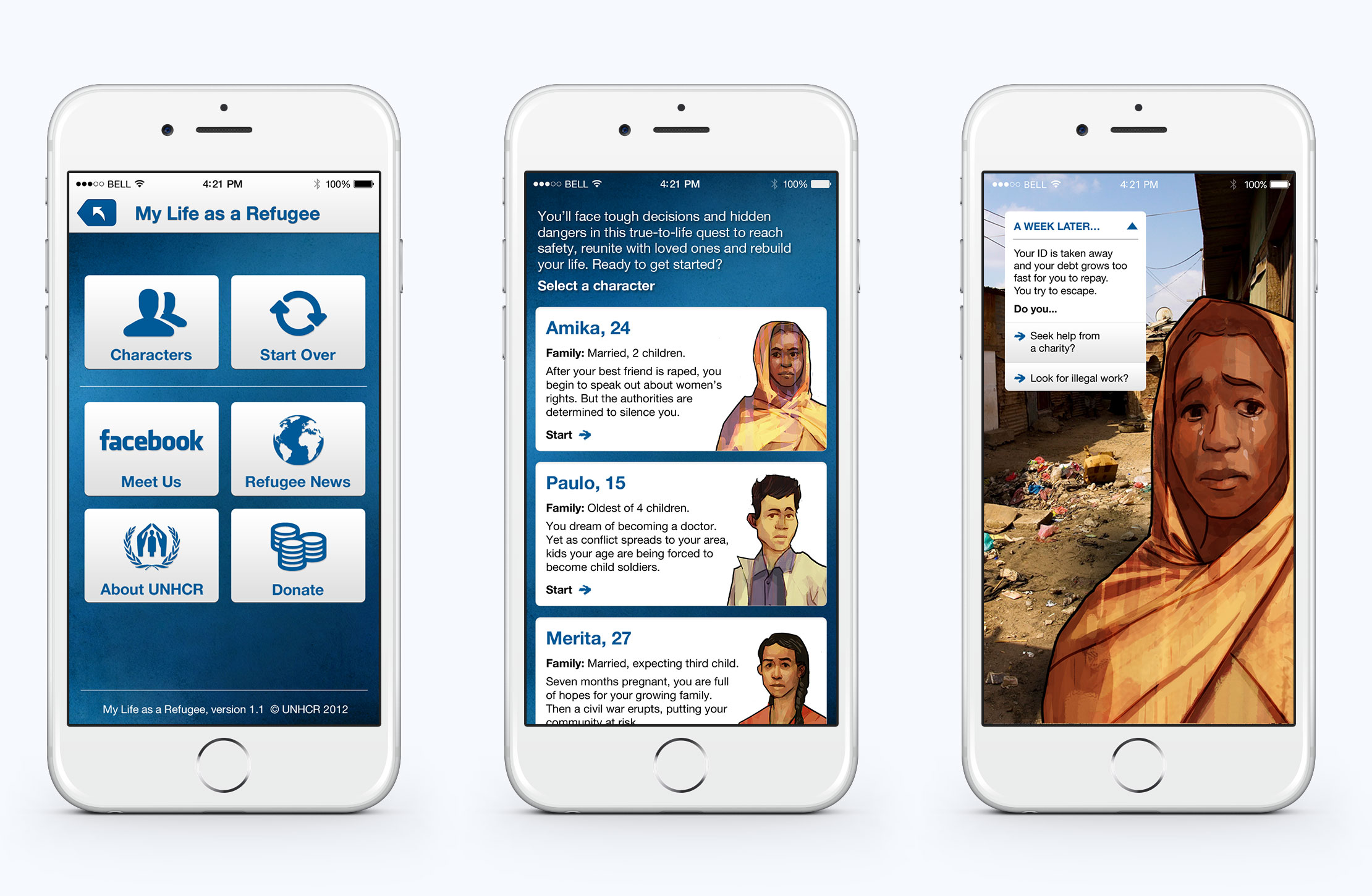 "My Life as a Refugee… successfully uses a unique, interactive concept to get their worthy message across."
- The Guardian
Campaign microsite
To further publicise the app we designed and built a dedicated website to showcase its unique features and also act as a portal where journalists and bloggers could download press releases and request an unlocked version of the app for them to review.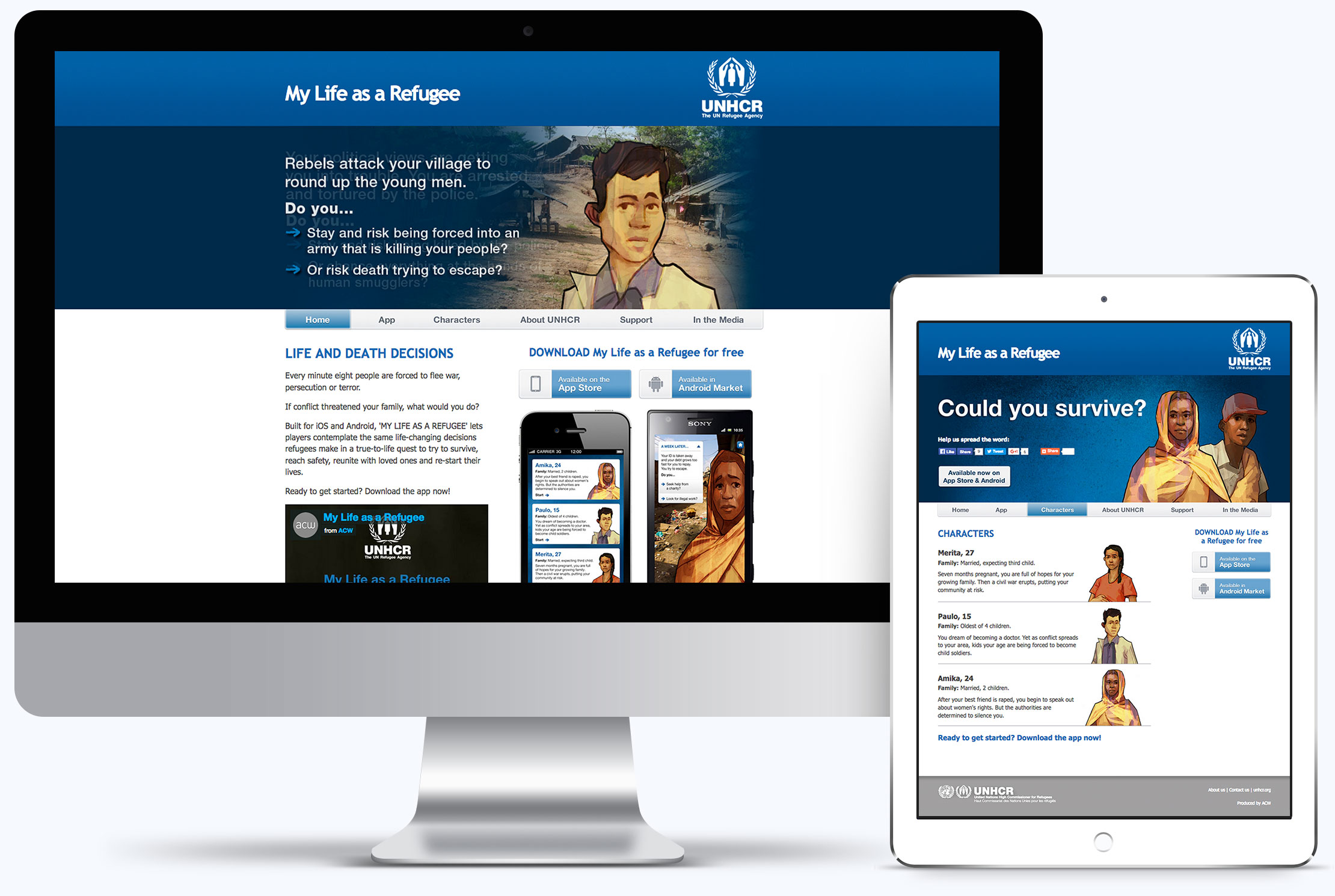 Video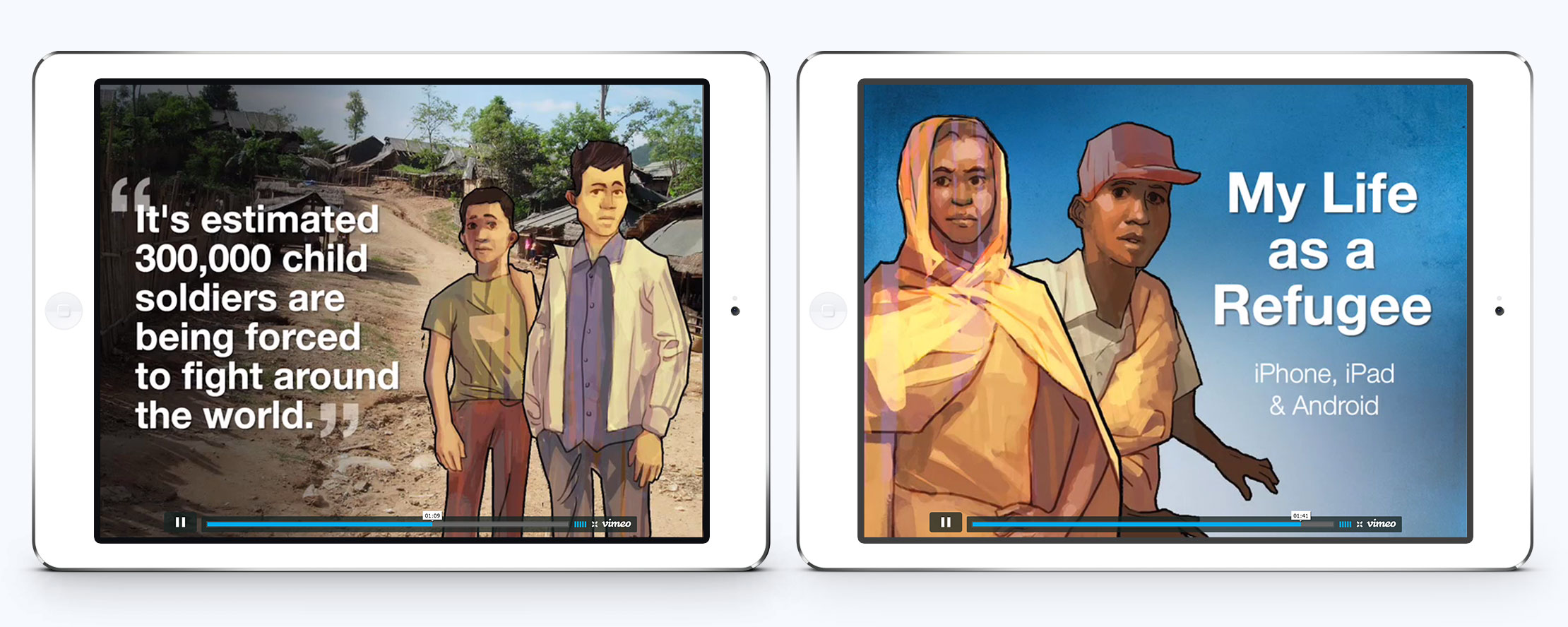 We also developed a video highlighting key features of the app in an engaging and interactive way to further provoke interest and even composed the background music. The video was not only broadcast on the site but also YouTube, Vimeo and on the main UN sites and partner web portals.
App marketing and PR
An integral part of the success of any app is promotion and UNHCR decided to give us control of the total app marketing process as well. As a result of our extensive PR activity, we garnered 1,000 reviews and positive responses from press and public.
Translating into 10,000 downloads in the first month; presently well over 100,000 downloads mean it is one of the most successful charity apps ever – with continued downloads and positive reviews it is still spearheading the publicising of the plight of refugees worldwide.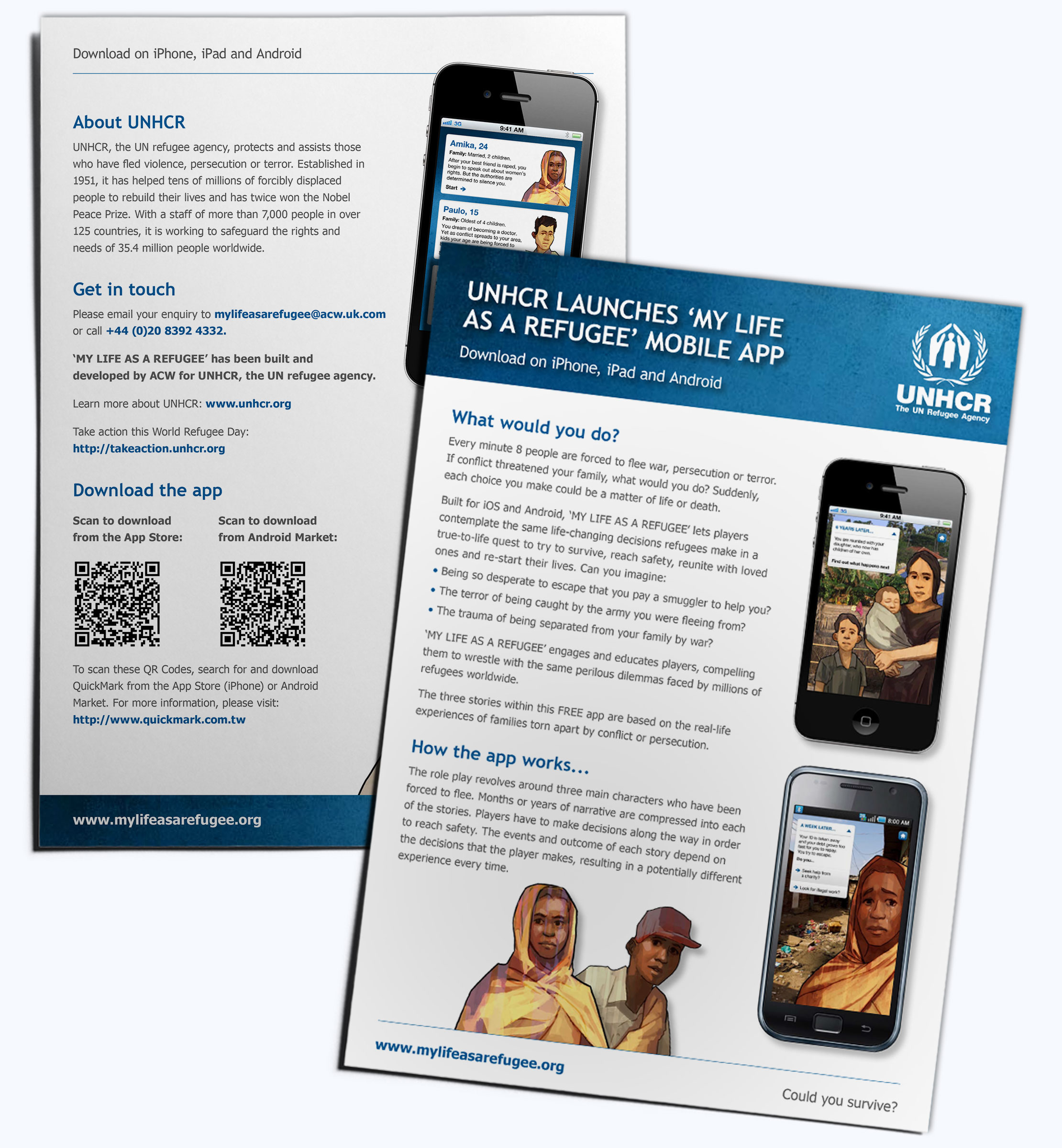 "…pulls no punches over the horror some people are forced to face and… is an effective tool in raising awareness."
- LifeofAndroid.com
Radio interview
Being an app the competition is fierce, however the buzz generated by ACW aroused interest from both the general public and global news vendors with organisations such as the BBC and The Guardian reporting on the positive impact of the app for Refugees.